MORGANTOWN, W.Va. — West Virginia's spring on the baseball diamond has been nothing short of historic. Randy Mazey's team has accomplished things that have rarely, if ever, been done before in program history.
Fifty-five games have passed since Opening Day, and the dust has settled for a few days before the postseason begins on Wednesday in Arlington, Texas.
With so much success and so many storylines that have developed throughout the season thus far, here's a recap of what you may have missed.
1. JJ Wetherholt's magical season
The man from Mars has been out of this world. Wetherholt, a semifinalist for the Golden Spikes Award, has been among the best players in the nation. He is second in the country in batting average, first in hits per game, and top five in total hits. Wetherholt is also just three stolen bases shy of tying the program's single-season record for steals. As long as he keeps his batting average above .440, Wetherholt will set the program mark for single-season batting average post-World War II.
Before the season started, Mazey proclaimed Wetherholt could be the "best hitter I've ever coached." So far, so good on that prediction. Wetherholt recently earned an invitation to the USA Baseball Collegiate National Team training camp, and hopes to become the first Mountaineer to make the club's 26-man roster this summer.
2. Record-setting performances and players
As you can see, Wetherholt is in the midst of a record-setting season this spring. But he is not alone in that quest of resetting the WVU record book.
Reliever Noah Short recently set the WVU baseball record for most career appearances at 73 (and counting). On March 31, Caleb McNeely became just the fourth player in program history to hit for the cycle when he did so against Kansas State.
As a team, the Mountaineers have already set the single-season record for hit-by-pitches (99) and walks (304). The group is just one homer shy of the all-time mark of 76, and is within reach of setting a new record for on-base percentage.
Back to Wetherholt, the sophomore sensation is within striking distance of matching the program single-season records in hits (has 92, needs 101), runs (has 65, needs 76), home runs (has 15, needs 19), and steals (has 35, needs 38).
Tevin Tucker has sole possession of second place on the WVU baseball career steals list. Carlson Reed is three saves shy of tying the single-season record. And if Dayne Leonard is hit with four more pitches this season, he will tie the WVU all-time record in that category.
3. Get off the Trax, Blaine is coming
Blaine Traxel has proven to be one of the most impactful offseason additions for the Mountaineers. Traxel came to West Virginia with a reputation as a workhorse-type pitcher. And he has lived up to his reputation, as he is well inside the top five in the nation in innings pitched.
Traxel tossed five complete games during the regular season. Four of those nine-inning performances came over a five-week span from Feb. 25-March 25. He tossed complete games on the road at Arizona, Virginia Commonwealth, and UNC Greensboro, and at home against Xavier. Just over one month later, Traxel went the distance again, throwing a nine-inning shutout on the road against Baylor.
With that complete game gem against the Bears, Traxel had tossed the most complete games in one season by a WVU starting pitcher since 2007. He continues to lead the country in the statistic, and entered rarified air in the process.
4. Next-level fan support at The Mon
Mountaineer Nation has shown out at a historic rate this season.
More West Virginia baseball fans came to Monongalia County Ballpark this spring than in any season in program history. A whopping 59,894 fans attended WVU's 24 home games this season, shattering the single-year attendance record by more than 7,000 spectators.
Mountaineer fans also broke the program's single-game attendance record. A total of 4,387 fans packed The Mon on May 6, besting the previous mark, which was set during the 2019 NCAA Regional. In all, seven of the 14 largest single-game crowds in program history entered through the Wagener Field gates for a game this season.
May 6, 2023, vs. Oklahoma — 4,387
May 31, 2019, vs. Fordham — 4,355 *
June 1, 2019, vs. Duke — 4,258 *
May 3, 2023, vs. Pitt — 4,070
June 2, 2019, vs. Texas A&M — 3,788 *
April 13, 2019, vs. Texas Tech — 3,494
April 3, 2019, vs. Pitt — 3,487
April 25, 2023, vs. Penn State — 3,475
April 21, 2023, vs. TCU — 3,441
April 15, 2017, vs. TCU — 3,415
May 5, 2023, vs. Oklahoma — 3,411
May 14, 2023, vs. Texas Tech — 3,312
April 15, 2022, vs. Oklahoma State — 3,291
April 22, 2023, vs. TCU — 3,290
5. Among the best in the country
Those stellar crowds have been treated to watching not only a great team, but great individual players, too. As a semifinalist for the Golden Spikes Award and Dick Howser Trophy, Wetherholt stands out. Again, though, he is not alone.
Fellow middle infielder Tevin Tucker is a semifinalist for the Brooks Wallace Award, given to the top shortstop in the nation. Traxel was named to the National Pitcher of the Year Watch in April. Closer Carlson Reed remains a candidate for the NCBWA Stopper of the Year Award.
Aside from those awards, eight different Mountaineer players earned spots on D1Baseball.com's latest Position Rankings.
Dayne Leonard, Catcher — No. 40
JJ Wetherholt, Second Base — No. 1
Tevin Tucker, Shortstop — No. 18
Braden Barry, Outfield — No. 100
Landon Wallace, Outfield — No. 46
Ben Hampton, Starting Pitcher — No. 99
Blaine Traxel, Starting Pitcher — No. 46
Carlson Reed, Relief Pitcher — No. 9
6. Freshman standouts
With players like Tucker, Leonard, Hampton, and Reed leading the way, West Virginia certainly has its share of veteran leadership. However, the contributions from the team's youngest players cannot be overlooked or overstated.
On the mound, true freshmen Gavin Van Kempen, Maxx Yehl, Carson Estridge, and Robby Porco, along with redshirt freshman David Hagaman, have combined for the following stat line: 12-2 record, 141 innings pitched, 4.79 ERA, and 147 strikeouts. Mazey has been complimentary of that group throughout this season, and has called on all five to get big outs. Porco was masterful in an April start against Kansas, becoming the first WVU freshman pitcher to record at least 12 strikeouts since Michael Grove in 2016.
Youngsters Sam White, Logan Sauve, and Ellis Garcia have been mainstays in the Mountaineer lineup. All three of the freshman trio have appeared in at least 45 games; Garcia has started 43 games, including holding his own at second base, while Wetherholt missed five games due to injury. The trio of first-year players has combined for 109 hits, 36 extra-base hits, 10 home runs, and 69 runs driven in.
7. Steel City advantage
There is one team on West Virginia's schedule each season that WVU fans want to see the Mountaineers beat more than any other. Well, the Mountaineers did just that; at home, on the road, and in a big-league ballpark.
That's right. West Virginia swept rival Pitt over three midweek games this spring. First, the Mountaineers scored nine unanswered runs to down the Panthers at PNC Park. Then, two weeks later, WVU mercy-ruled Pitt at Mon County Ballpark. Finally, on May 10, West Virginia fended off a late comeback attempt after building up a lead.
Mazey's crew went 3-0 against the Panthers this spring, and have now won five in a row and 18 of the last 24 meetings dating back to 2012. Not only that, but with the win over Pitt on April 19, the Mountaineers are now 5-0 all-time at PNC Park, with three of those victories coming against Pitt.
8. Follow the Skipper
In Randy Mazey WVU baseball fans trust. The skipper has guided West Virginia to one of its best regular seasons in program history. The 39 wins so far this year are the second-most in any season. They are also the most regular season wins ever for the program, and the team's 15 conference victories are the most in one season since joining the Big 12 in 2013.
With 39 wins this year, Randy Mazey has collected 335 victories while in charge of the WVU baseball program. That places him in sole possession of third place on the all-time wins list. His .577 win percentage is also third-best in team history among head coaches in charge for at least five seasons, trailing only WVU Sports Hall of Famers Steve Harrick (.674) and Dale Ramsburg (.579).
9. Memorable weekend series
A nine-game winning streak followed by a 10-game winning streak meant West Virginia was racking up the W's consistently throughout the regular season. The Mountaineers pulled off four weekend series sweeps, including two on back-to-back weekends during conference play.
The sweep over TCU from April 21-23 marked West Virginia's first-ever undefeated weekend against the Horned Frogs. By sweeping Baylor the following weekend, it marked the second-straight year that WVU has taken all three regular-season games from the Bears. It also marked the second time in Mazey's tenure that WVU has swept two conference series in the same year.
10. Big 12 co-champions
The most recent major development: West Virginia has earned a share of the Big 12 regular season title. WVU did have a chance to win it outright, but made history by claiming a share of the conference's regular-season crown for the first time in program history.
Mazey's 2023 squad is the first WVU baseball team to win a conference title of any kind since the 1996 Mountaineers swept the Big East regular season and postseason tournament championships. This marks the program's 15th regular season conference title all-time, and the 10th since the start of the 1981 college baseball campaign.
It is also only the second Big 12 regular season championship for any of the major sports programs (baseball, football, men's & women's basketball) since the Mountaineers joined the conference.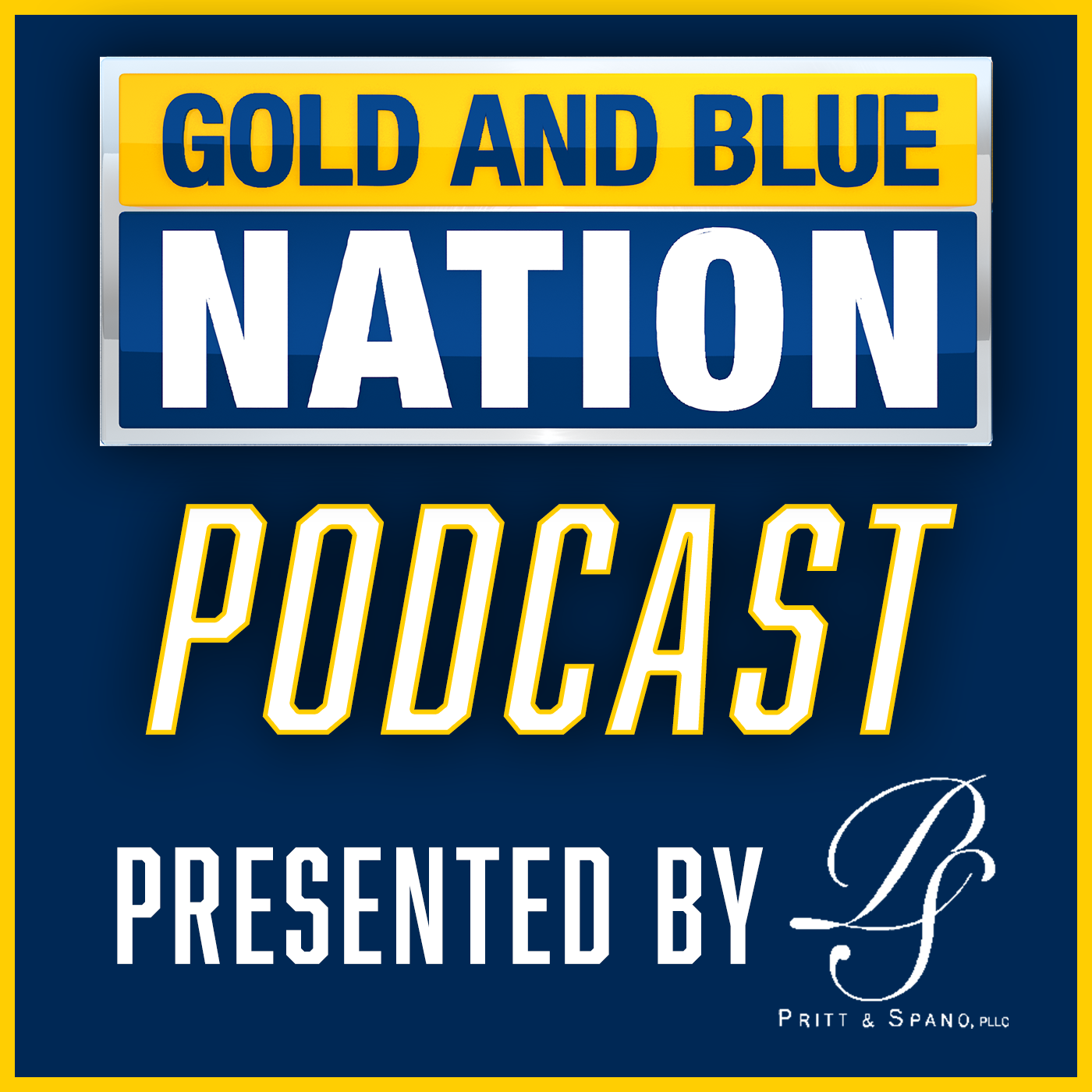 Co-Big 12 regular season champ West Virginia wraps up the regular season in Texas
–
The Gold and Blue Nation Podcast
Nationally ranked West Virginia completed a historic regular season by earning a share of the Big 12 regular season title. How did it happen, and what comes next for the Mountaineers as the postseason begins? Hosts Ryan Decker and Kevin Redfern discuss on this edition of The Gold and Blue Nation Podcast, presented by Pritt & Spano.